Mie sain Reetalta ihanan yllärin, kun tein parit pääkallopuikot:
I got a wonderful surprise from Reetta for making two pairs of single-pointed needles with skulls for her:
Kortti oli hauska ja juuri sopiva:
I liked the card:
Sain myös stitched mail-art-listan keittiökuorivaihdossa Fionalta kuoren:
I also received my kitchen exchange envelope from Fiona:
Kuori oli täynnä hienoja yksityiskohtia:
The envelope was filled with magnificent details:
Aloitin myös uuden työn: Bucillan kartan nimeltään New World. Aihe on vanha kartta, ja aihe on 8 osassa. Ajattelin pistellä yhden osan 2 viikossa, jolloin työhön menisi 4 kuukautta. Aikataulu on aika realistinen, tässä on edistyminen yhdessä viikossa. En muistanut tähän laittaa sitä kahdeksasosaohjeen rajaa neuloilla, laitan seuraavaan kuvaan, jos muistan :)
I also started another project, called New World by Bucilla. The theme is an old map and the chart is in 8 parts. My goal is to stitch one part in 2 weeks, which means this would be finished in roughly 4 months. I think it is realistic, and here you see my progress after one week. I forgot to mark the edges of 1/8 of the chart with needles, I'll do that with the next picture.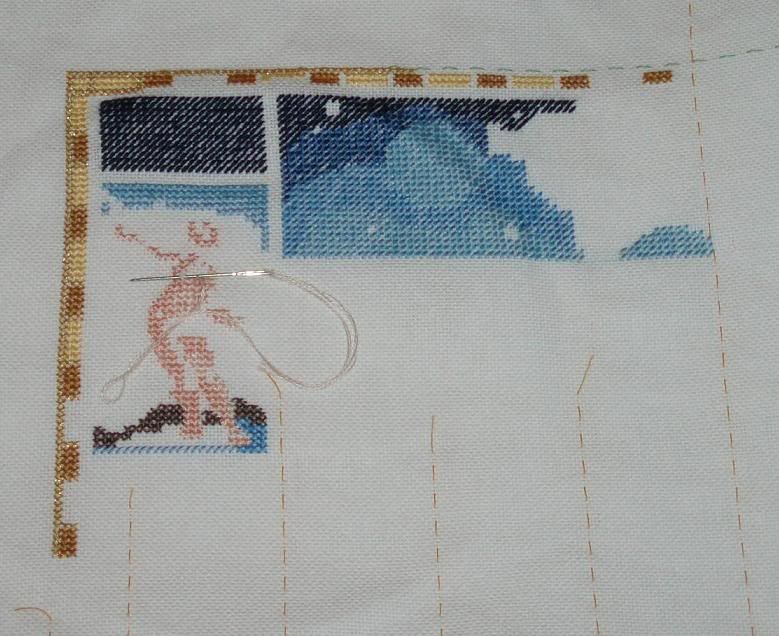 Tämmöinen siitä pitäisi isona tulla. Pistelyalueen koko on noin 200 x 260 pistoa ja jos oikein olen ymmärtänyt, se on noin 37 x 47 cm valmiina, kun pisteltävänä kankaana on 28 ct evenweave. Värien määrää en muista, enkä tarkkoja mittojakaan (ohje on liian kaukana just nyt) :)
And this is what it is supposed to be like. It is 200 x 260 stitches (do the math, that's 52,000 stitches!), and I think it measures about 14,5 x 19 inches when stitched on 28 ct evenweave. I have no idea how many colors there is, the chart is too far away now :)
Noi kaks vikaa kuvaa on photobucketissa, jonne tein kansion tätä työtä varten. Kokeilen, onko PB hyvä, vai jatketaanko täysin Flickrin voimin. Toistaiseksi en ole vakuuttunut, ehkä kokeilen jotakin muutakin. Herjatkaa jos kuvat ei näy. Kuva on linkki, linkin takana on sitten isoja kuvia eli voi hiukan aikaa latautua.
Those two pictures are in PhotoBucket, where I have a folder for this project. I'll try if it is alright, or will I keep on using Flickr. So far I am not convinced, I might try another service, too. Let me know if you can't see them. The picture is a link, and it takes you to a very big picture, so be patient while it's downloading.
Aiempaan viestiin olen päivitellyt lisää kuvia Nalle-takista ja vähän speksejä. Niin, ja muistin aikana: Finnpalooza siirtyy äänin x-0 kevääseen. Päätin diktaattorin valtuuksin, että deadline on ystävänpäivä, ja aikaa 3 kk, eli ilmoittautumiseen palattaneen loka-marraskuun taitteessa.
I also updated an old message about the turquoise sweater, it has some specs and a couple of pics me wearing it. Go check it out! And, while I remember, Finnpalooza will be held in the spring, with deadline around Valentine's Day. You have 3 months to knit so expect a post about joining at the end of October.